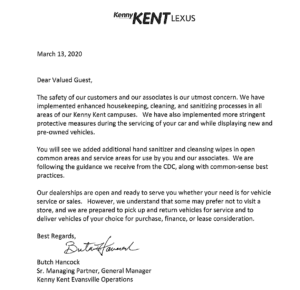 WELCOME TO Kenny Kent Lexus OF EVANSVILLE, IN
Kenny Kent Lexus excels in sales, service, facility operations and customer satisfaction thus providing an amazing experience for all guests. Our Evansville Lexus dealership is held in high regard among luxury car buyers in the IL-IN-KY tri-state area. Their reviews and continued patronage are a large part of what's helped us earn the honor of serving Evansville's and the Tri-State's luxury market.
THE Kenny Kent Lexus DIFFERENCE
Along with finding PREMIUM LEXUS CARS for sale in Evansville, such as the new RX, NX, RC, IS and ES, you'll also find a car repair shop and Lexus parts facility, which open bright and early for your convenience. In both sales and service, we treat our customers with a level of cordiality and professionalism that's second to none. As a result, Kenny Kent Lexus' CSI ratings consistently exceed the industry average.
Additionally, outside of the dealership, we have a strong reputation when it comes to supporting the local community. The same passion that drives us to help customers find new Lexus cars for sale is equal in scale to the passion that drives our philanthropic endeavors.
As an active contributor to the tri-state area's business and charitable communities, our Evansville Lexus dealership is involved in and financially supportive of many commendable organizations, including youth athletic and academic programs, Muscular Dystrophy Association, St. Vincent's Medical Center and Deaconess Hospital medical programs, Junior Achievement and many, many others. In fact, we support over 100 events, organizations and community requests annually, and many also know us from the Kenny Kent Lexus Jazz and Wine Festival, which is always exciting to participate in every year.
When you visit us to find new or used Lexus cars for sale in Evansville, IN, you'll see that our commitment to helping people is present whether we're out at a charity event or hard at work in the dealership. This commitment starts with our staff. We believe that if you treat employees well, customer satisfaction will soar and our CSI scores are proof of this. We're also fully committed to doing whatever it takes to give our customers red carpet treatment, offering a high-end experience that's second to none.
For those in search of car repair in Evansville, the same philosophy applies. Whether you need a new battery, brakes, tires or a simple oil change, you can count on our manufacturer-trained and ASE Master-certified mechanics. They use their expertise to tackle vehicle maintenance and repairs both large and small. Furthermore, the service center at our Evansville Lexus dealership offers excellent prices, complimentary multipoint inspections and car washes. We also provide shuttle service, loaner cars, and loyalty coupons!
The next time you need an oil change or want to find a great selection of new and used Lexus cars for sale in the tri-state area, come to Kenny Kent Lexus and benefit from great customer service and savings on vehicle maintenance and new cars! Apply for Lexus financing now to get the buying process started or schedule your next service appointment using our online form. We proudly serve the tri-state area, including Henderson, Mt. Vernon, and other nearby locales!